How to Protect Your Skin From Blue Light Damage
Everyone spends time in front of screens, including smartphones, laptops, tablets and television screens. We know that your posture can suffer, you may carry tension in your neck from looking at a screen as well as encounter dry eye and headaches. The light from the screens may be messing with your sleep if you scroll too late at night. But is the exposure to blue light from your electronics impacting your skin negatively? And outside of unplugging, what can you do to help?
First, we need to define blue light. It is one of the colors in the spectrum of visible light, alongside red, orange, yellow, green, indigo and violet. It is the shortest wavelength of this spectrum, closest to ultraviolet light and we know how damaging UV rays can be. Put these colors together and they comprise the white light given off by the sun, which is similar to the blue light that is emitted from fluorescent bulbs. Just like UV rays, blue light from electronics has the power to shrink cells and even kill them. As little as an hour can cause these changes in the body, which include the aging of your skin as well as dark spots or hyperpigmentation.
Blue light exposure is linked to oxidative damage in the skin, which breaks down collagen, causes skin laxity and creates the appearance of fine lines and wrinkles.
We even squint as we look at our electronics which speeds up the process of creating fine lines.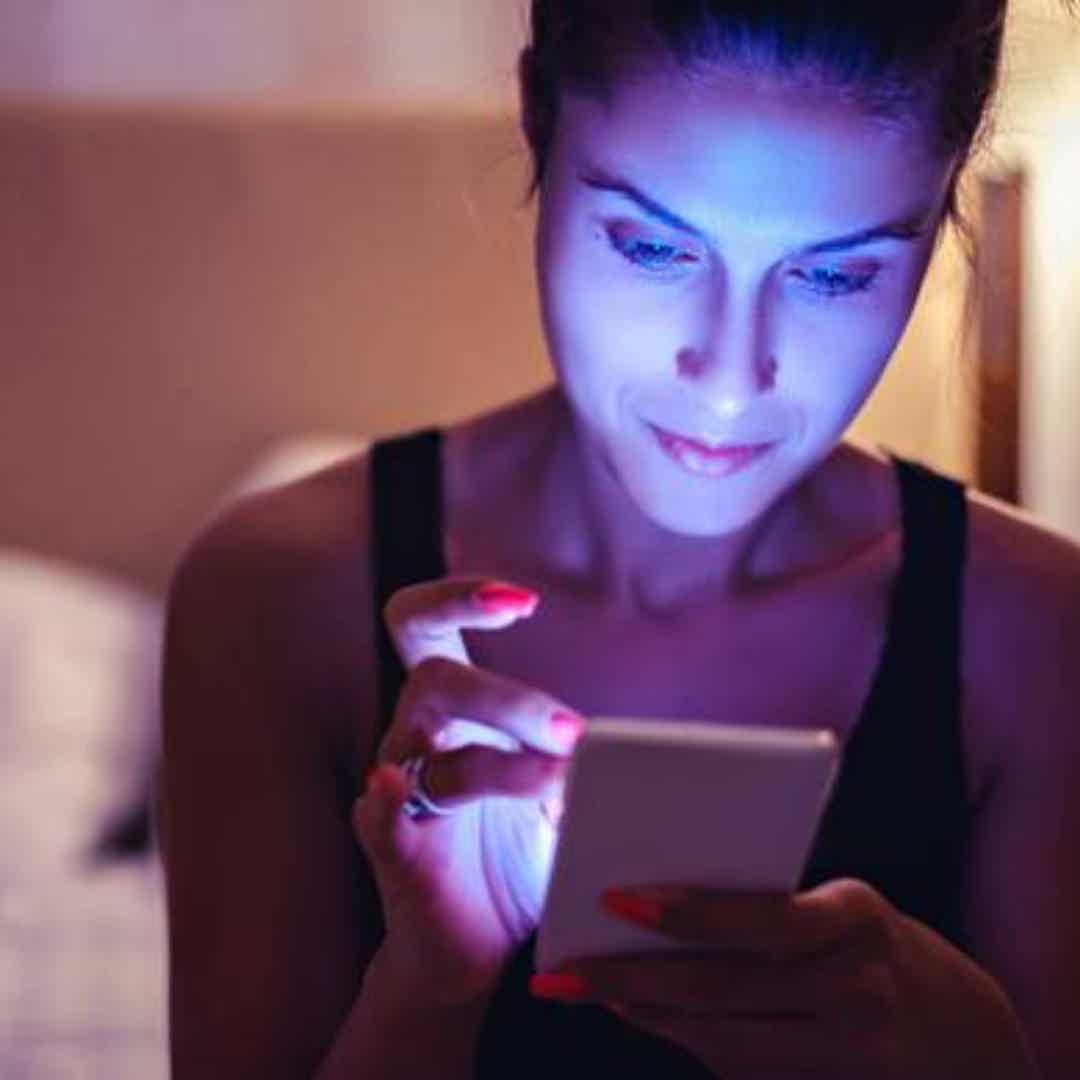 Although blue light has healing properties, like treating acne, psoriasis and actinic keratosis and is used in phytodynamic therapy to kill cancer cells, it can have a negative impact on skin. Although electronics only emit a small amount of the High-Energy Visible light or HEV light compared to the sun's damaging rays, we spend so much time near these devices and they are positioned close to our faces to cause alarm about the long term damage that we may be sustaining.

Modern skincare products are effective by physically blocking blue light and helping to combat free radicals before they have the chance to negatively impact your skin. So how can you find the best face serum for blue light? Look no further than DEFEND Face Serum from MOOD Skincare.
DEFEND Face Serum is infused with radical-neutralizing blueberry seed oil as well as zinc oxide, helping to give your skin powerful defense against the daily threats like UV and HEV blue light. This serum also protects skin from UVA and UVB rays of the sun with an SPF of 30. It supports cellular restoration for healing.
How does DEFEND work so well?
Defend yourself against damaging UV lights and HEV, and help keep your skin safe from sun damage and the resulting hyperpigmentation. Blueberry seed oil is rich in oleic fatty acids which nourish the skin which helps to lock in moisture as well as serve as a natural shield against blue light. It prevents damage, uneven texture and sagging. Vitamin C is included, bringing along antioxidant capabilities to repair damaged cells and promote collagen production.
You're modern. Your skincare should be, too. Protect and nourish with the powerful properties of DEFEND Face Serum for blue light from MOOD Skincare.
*These statements are found to be accurate as of the time this blog is published.
Except where otherwise indicated, statements regarding products have not been evaluated by the Food and Drug Administration. This product is not intended to diagnose, treat, cure, or prevent any disease.